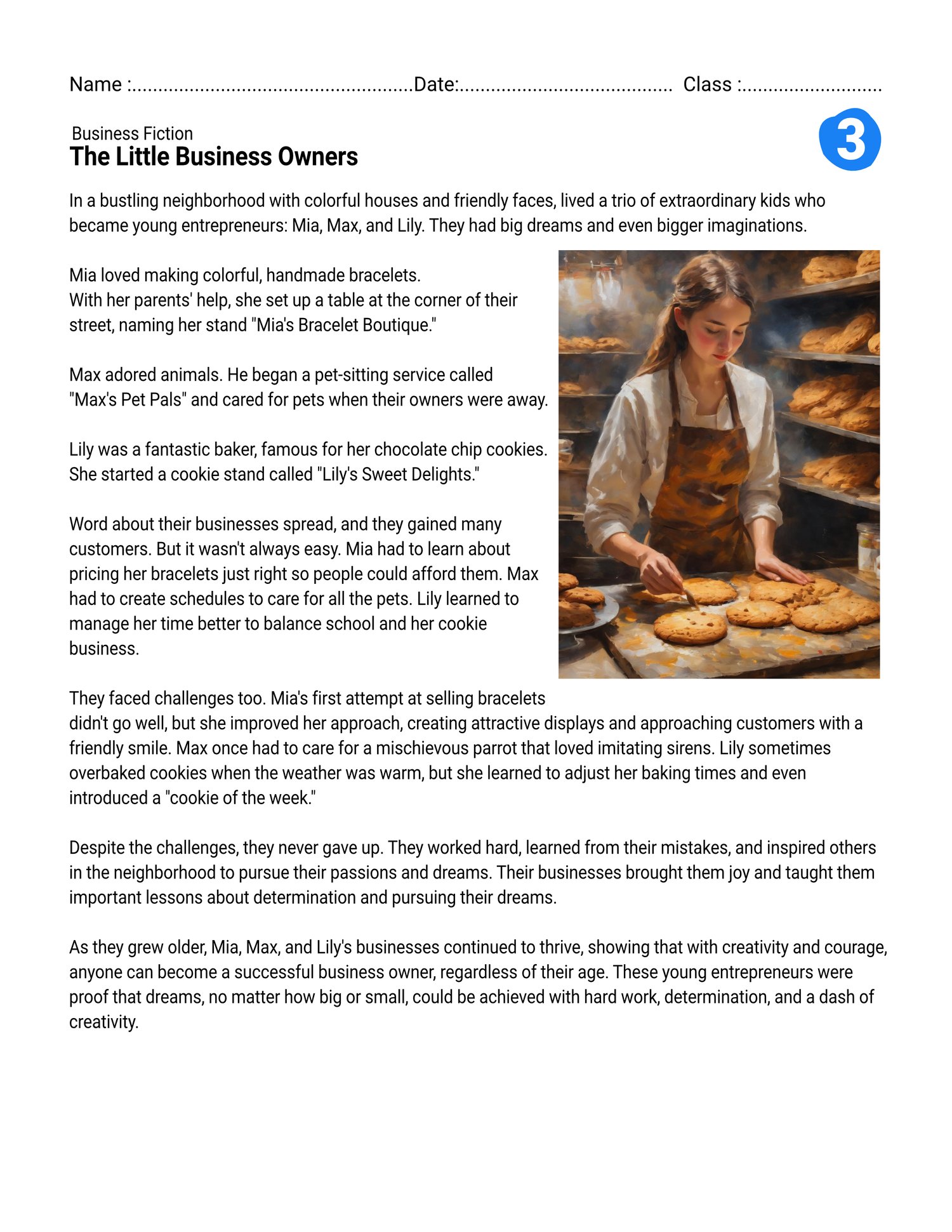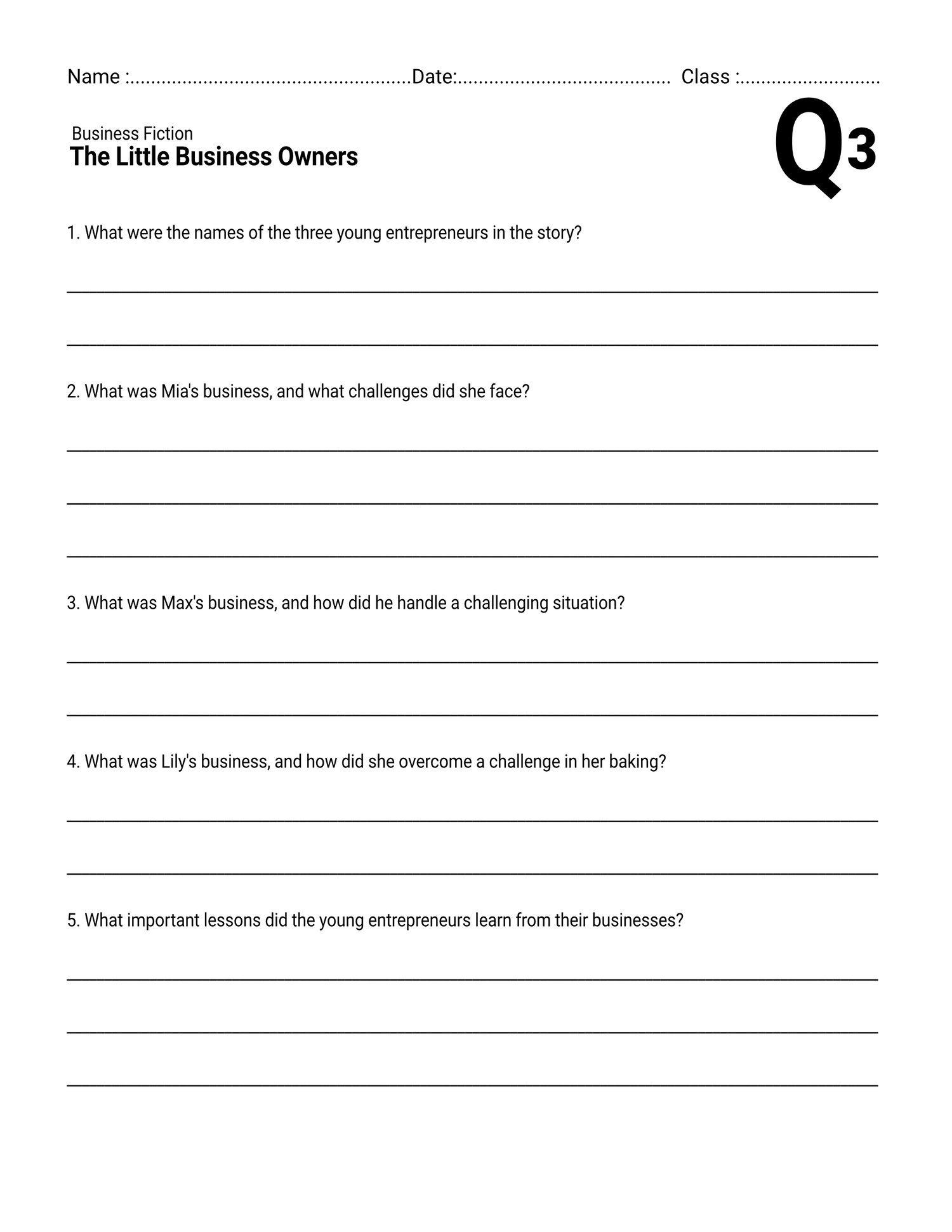 Exploring Business Worlds in Fiction Reading Comprehension Worksheets
On Sale
Preview
Introducing Our "Exploring Business Worlds in Fiction" Reading Comprehension Worksheets!
Unlock a World of Business Adventures for Your Students with Our Easy-Basic Business Reading Comprehension Passages
At [Your Website Name], we are delighted to present our newest offering: "Exploring Business Worlds in Fiction - Easy-Basic Business Reading Comprehension Passages Worksheets." These carefully crafted materials are designed to make learning fun and engaging for students in grades 3 to 6. With this fantastic resource, teachers can effortlessly enhance their students' reading comprehension skills while immersing them in the exciting world of business adventures.
Key Features:
10 Business Fiction Stories

: Your students will embark on thrilling adventures, each designed to educate, entertain, and spark their imaginations. These stories are not only engaging but also provide valuable insights into the world of business.

Grade 3 to 6

: Our worksheets are thoughtfully structured to cater to a wide range of learners. Whether your students are in grade 3, 4, 5, or 6, they will find these passages accessible and enriching.

Comprehension Questions

: Each passage is accompanied by 5 comprehensive reading comprehension questions. These questions encourage critical thinking and ensure that your students truly understand the essence of each story.

Answer Key

: We understand that as a teacher, your time is precious. That's why we've included a detailed answer key for each passage. This makes assessing your students' comprehension a breeze, allowing you to provide constructive feedback.

Colorful Illustrations

: Our worksheets feature colorful and vibrant illustrations that breathe life into each story. These illustrations not only enhance comprehension but also foster a deeper connection with the content.
Passage Titles with Descriptions:
The Busy Bee's Business

: Join the diligent bees in their bustling honey-making venture and learn valuable lessons about teamwork and industriousness.

Sunny's Lemonade Adventure

: Follow Sunny as she embarks on her lemonade stand business journey, teaching young minds about entrepreneurship and determination.

The Little Business Owners

: Dive into the world of young entrepreneurs and discover their inspiring stories of success and perseverance.

The Business Battle: Small vs. Big

: Witness an exciting showdown between a small local store and a big corporation. This story introduces students to the dynamics of business competition.

The Tale of the Ice Cream Cart

: Step into a whimsical world of ice cream and adventures, perfect for igniting young imaginations while exploring the joys of entrepreneurship.

The Secret of Smiling Stars Bookstore

: Learn about the importance of excellent customer service in a charming bookstore setting. This passage underscores the significance of good business practices.

Leo's Money Adventure

: Join Leo on his quest to understand money and budgeting, a vital life skill that every student should possess.

The Busy Buzz of Market Day

: Delve into the enchanting world of market day and uncover the magic of goods and services. This passage offers insights into the fundamentals of business.

The Online Shopping Revolution

: Explore the rise of online shopping and its transformative impact on the way businesses operate and the way consumers shop.

The Magical Ice Cream Truck

: Follow the enchanting ice cream truck's journey and unravel the secrets of marketing and advertising. This story provides a fun and imaginative perspective on the world of business.
These reading comprehension passages are not only educational but also highly captivating for young readers. They offer a fantastic opportunity for students to delve into the fascinating world of business within the context of engaging fictional narratives. With these materials, your students will be eager to improve their reading comprehension skills while enjoying a journey into the captivating world of business.
Don't miss out on this invaluable resource! Upgrade your teaching materials today with "Exploring Business Worlds in Fiction" - the perfect blend of education and entertainment for your students.